A Closer Look at the Memorial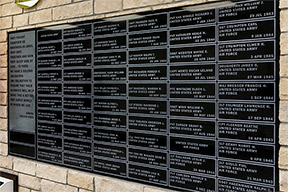 Names of the 101.
Names
These names, etched in granite, signify the 101 known servicemen from Riley County who lost their lives during World War II. Extra plaques are found on the wall for Riley County veterans whose service and sacrifice may be discovered in the future. May they never be forgotten again.
U.S. Flag
The 48 Star Flag was the official flag of the United States from 1912, upon admission of New Mexico and Arizona to the Union, to 1959, when Alaska became the 49th state. It was the second longest-serving United States flag, having been surpassed by the modern 50 Star Flag (1960 – Present) in 2007. The 48 Star Flag was the official flag of the United States during both the First and Second World Wars.




Purple Heart
The Purple Heart is awarded to members of the U.S. armed forces who are wounded in service of their country or awarded posthumously to next of kin in the name of those whose lives are lost. The award was first established by George Washington in 1782 as the "Badge of Military Merit," but quickly fell into disuse after the War for Independence. It was revived in 1932 in its current iteration and became dedicated primarily to war wounded at that time.
Soldier's Cross
The Soldier's Cross, also known as the Fallen Soldier Battle Cross, is a symbolic marker placed on the field of battle or at the base camp of a service member who has been killed. The marker consists of the service member's rifle stuck into the ground or into the boots with the helmet placed on top. The practice started during the Civil War as a means to help identify the dead, and today, it is intended to show honor and respect for the dead by those still living. The Soldier's Cross in the memorial foyer uses images of World War II-era boots, helmet, and rifle.

Gold Star
The term "Gold Star" is a reference to Service Flags or banners, which were first displayed by families during World War I. The flag or banner included a blue star for every member of the family serving in the armed forces. Upon the loss of a family member, the blue star was replaced by a gold star. This allowed everyone in the community to know the sacrifice the family had made for their country.
Military Seals
The Military Seals represent the branches of service, including the Army, Army Air Corps, as it was known during World War II, the Navy, and the Marines.
Kansas Flag
The Kansas flag represents the state of Kansas.
---
More Info...
History
Gallery