Date of Birth: January 17, 1920
Place of Birth: Manhattan, Kansas
Father and Mother's Names: Edgar W. and Mabel M. (Bothe) Hale
Date Entered Service: January 12, 1942 - at Fort Riley, Kansas.
Service Branch: Army Air Corps
Service Number: 0-727213
Rank: First Lieutenant, Flight Crew, B-26 Marauder Medium Bomber.
Division/Company/Unit info: 437th Bomb Squadron, 319th Bombardment Group, 12th Air Force Uijda Army Airfield, Uijda, French Morocco.

Awards and Commendations: Outstanding Aerial Actions (5 Sorties) March 27, 1943

Riley Connection: In 1920, Edgar's father and mother lived at 429 Laramie St. and his father worked in a garage as a mechanic. Nine days after the Federal Census was taken, Edgar Leighton Hale was born. The family lived at 617 Leavenworth in 1930. His father was working as an electrician. In 1940, the family moved to Zeandale, KS.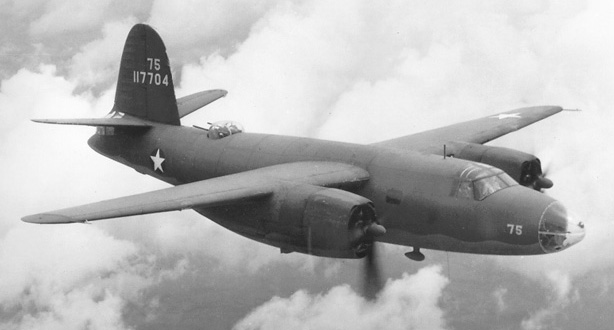 B-26 Marauder like the one that Edgar Hale flew on (Source Wiki-commons).
Date of Death (and Age): April 17, 1943 (age 23)
Place of Death: North Africa
Grave Location: Westmoreland Cemetery, Westmoreland, Kansas.
Bio: Edgar grew up in Manhattan and moved to Zeandale before entering the military. Edgar's name is listed on memorial plaque in All Faiths Memorial Chapel, Kansas State University, in Manhattan, KS. Attended 1 year at Kansas State College in Manhattan. Edgar was 5' 8" tall and weighed 160 Lbs. Edgar enlisted at Fort Riley, KS on 1/12/1942 and within a few months was in Morocco flying missions in a B-26 Marauder. These planes were considered by the air crews who flew them as "Flying Coffins". Their short wing span and at the speed they flew made them very unstable. Edgar had flown 5 Sorties (bombing missions) by March of 1943 and was decorated for this achievement on 3/27/1943. This event was just 3 weeks before he died on his 6th Sortie while flying over North Africa. A newspaper article from Marysville, KS reports that his uncle Henry recieved word that his nephew was killed in action over North Africa, however, the National Archives records show him DNB (deceased Non-Battle). This status may reflect the fact that the plane crashed on the return trip and was not due to enemy fire. Either way, 1st Lieutenant Edgar Leighton Hale was a gallant pilot and gave the ultimate sacrifice for his country. His name is included on the memorial at Deep Creek School.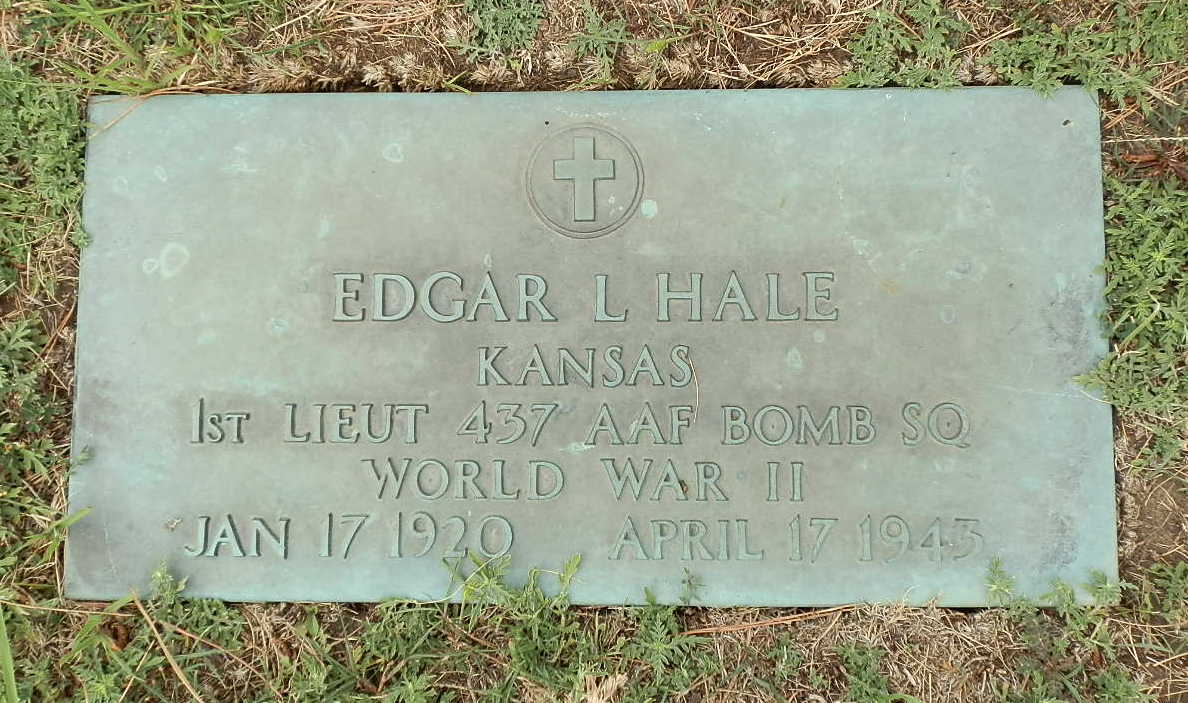 Hale's headstone at Westmoreland Cemetery, Westmoreland, Kansas.
The information available for this veteran is incomplete. We would like to include as much information about all our veterans as possible, so if you or someone you know has any additional information we encourage you to contact us at: peacememorialmanhattan@gmail.com. Thank you for your support.