Date of Birth: February 27, 1916
Place of Birth: Council Grove, Kansas
Father and Mother's Names: Edmund & Mildred, brother of Allen & Wilma Hotchkiss
Spouse and Children's Names: Pauline E. Umberger Hotchkiss
Date Entered Service: TBD
Service Branch: Army Air Corps
Rank: Captain
Division/Company/Unit info: 101st Airborne, 501st Parachute Infantry Regiment, Company I.

Richard and Pauline were high school and college sweethearts. They grew up in Manhattan, Kansas, and were married in June of 1942, against her father's wishes. He did not wish to see her become a war widow, but she became one anyway. Dick and Pauline had no children together.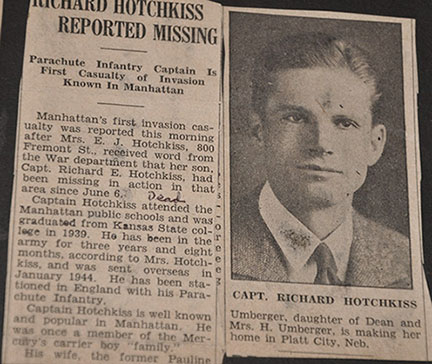 The Manhattan Mercury reports that Captain Hotckiss was missing in action.
Riley Connection: Attended Manhattan High School 1932-1934. Graduated from Kansas State College with a B.S. ( Attended 1935-1939). He was a talented athlete and track star at both MHS and KSC. Richard's mother was living at 800 Fremont at the time of his death (source: 1944 Manhattan Mercury article).
Date of Death (and Age): June 6, 1944 (age 28).
Place of Death: Caen, France.
Grave Location: Re-interred from France to Sunset Cemetery, Manhattan, KS in 1948.
The information available for this veteran is incomplete. We would like to include as much information about all our veterans as possible, so if you or someone you know has any additional information we encourage you to contact us at: peacememorialmanhattan@gmail.com. Thank you for your support.