Full Name: Francis Neal Karlsen Hugos
Date of Birth: July 3, 1921
Place of Birth: Norway, Republic Co., Kansas
Father and Mother's Names: Karl Adolph Johnsen Hugos and Wanda Frances Charlesdatter (Figgins) Hugos
Date of Enlistment: June 3, 1942 from Fort Riley, Kansas.
Service Branch: Army Air Corps
Rank/Specialty: Second Lieutenant
Service ID: 0-694160
Division/Company/Unit info: 51st Fighter Squadron, XXVI Fighter Command La Chorrera Army Air Field, Panama.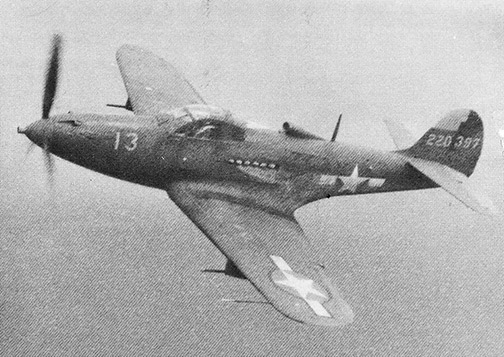 Hugos flew a P-39Q Airacobra fighter plane.
Riley Connection: NARA (National Archives) List Hugo's Home of Record as Riley County, Kansas where he lived from 1931-1942. He specifically lived at 223 Humboldt St. in Manhattan in 1940.
Date of Death (and Age): DNB (Deceased Non-Battle) March 8, 1944 (age 22).
Place of Death: Panama
Grave Location: Disinterred fron Corozol American Cemetery in Panama on March 6, 1948. Repatrited to the U.S. in May 1948 and reinterred at Sunset Cemetery, Manhattan, Kansas.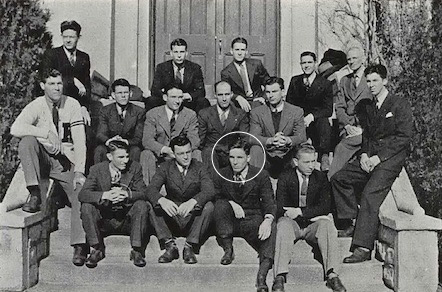 Hugos (circled) with fellow members of the Phi Epsilon Kappa Fraternity at K-State.
Bio: Francis Neal Karlsen Hugos was born on July 3, 1921 at Norway, Republic Co., Ks to Karl Adolph Johnsen Hugos and Wanda Frances Charlesdatter (Figgins) Hugos. From the time Francis was born until his 10th year he lived around the Norway/Scandia area of Republic Co., Kansas. In 1931, his father moved the family to Manhattan, Kansas to further his metal scrap business. Francis attended all the local schools including three years at the Kansas State College. On June 3, 1942, Francis joined the Army Air Corps from Fort Riley, Ks. He soon attained the rank of 2nd Lieutenant and was attached to the 51st Fighter Squadron. By 1944, his squadron was part of the XXVI Fighter Command. His fighter squadron consisted of the Bell P-39Q Airacobras fighter planes and were stationed at La Chorrera Army Air Field, Panama. On March 8, 1944, Francis was killed during a flight training excersise from the Air Field.
The information available for this veteran is incomplete. We would like to include as much information about all our veterans as possible, so if you or someone you know has any additional information we encourage you to contact us at: peacememorialmanhattan@gmail.com. Thank you for your support.