Date of Birth: January 2, 1916
Place of Birth: Kansas
Father and Mother's Names: Morris and Dorothy Evans
Date Entered Service: March 30, 1942
Service Branch: Army
Service Number: 38148653
Rank: Technician Fourth Class, Tank Driver.
Division/Company/Unit info: Company B, 40th Tank Battalion, 7th Armored Division.

Awards and Commendations: Silver Star and Purple Heart.
Riley Connection: The 1920 and 1930 U.S. Censuses show Gilbert's family farming in Pottawatomie County, KS. The 1940 U.S. Census shows Gilbert has moved to Colorado to farm with an uncle. A 1941 Kansas Census (and for many years following) show Gilbert's father living in Madison Township in Riley County.
Date of Death (and Age): April 9, 1945 (age 29)
Place of Death: Date of death may place him near Neuenrade, Germany.
Grave Location: Westmoreland Cemetery, Westmoreland, Kansas.
Bio: Gilbert grew up farming in neighboring Pottawatomie County, and his parents later moved to Madison Township in Riley County. Gilbert joined the Army, where he was assigned to the 7th Armored Division, 40th Tank Battalion, Company B. The 7th Armored Division landed on Omaha and Utah beaches on D-Day. The 7th Armored Division was preparing to advance into Germany when the Ardennes offensive began on Dec. 16, 1944, known as the Battle of the Bulge. Company B saw action in the Battle of the Bulge near St. Vith, Belgium, and moved to Manhay, Belgium, and by the end of December, it had cleared the town of enemy forces. In Jan. 1945, the 7th returned to St. Vith and recaptured the town. The 7th Armored Division, 40th Tank Battalion, according to a citation from Prince Charles of Belgium, "pushed the enemy out of the position that it had been organizing for two weeks, and pushed it without respite seven kilometers beyond the Belgian frontier, inflicting heavy losses on this enemy. During these nine days it captured more than one thousand prisoners." In March and April 1945, the 7th was part of two major breakthroughs that resulted in the "encirclement" of the Ruhr Pocket and led to the capture of over 300,000 German troops. Based on the date of Gilbert's death, he lost his life during action near Neuenrade Germany. He was awarded the Silver Star.
Leo White, Susan Rawlings, Karl Conner, Ethal Conner, Gilbert Immenschuh and Fred Conner (1935).
Few details exist that give any clue as to where Immenschuh was when he met his fate. It's reported that Immenschuh's Task Force Wolf (a grouping of a variety of tank and infantry companies) moved forward to capture Heminghausen. Mined roadblocks were dismantled along the way. Suddenly, the two lead tanks of the column (presumably one driven by Immenschuh) were fired upon by a concealed enemy tank under a railroad underpass from 200 yards.
"The crews of these tanks suffered high casualties because of the mortar and small arms fire," the report stated. No names of the soldiers were provided. Quickly, the infantry moved in, wiped out the small force of Germans, captured 27 prisoners and secured the town.
Silver Star citation: "The President of the United States of America, authorized by Act of Congress, July 9, 1918, takes pride in presenting the Silver Star (Posthumously) to Technician Fourth Grade Gilbert A. Immenschuh, United States Army, for conspicuous gallantry and intrepidity in action against the enemy while serving with Company B, 40th Tank Battalion, 7th Armored Division, in action in Germany, on April 9, 1945. Technician Fourth Grade Immenschuh's gallant actions and dedicated devotion to duty, without regard for his own life, were in keeping with the highest traditions of military service and reflect great credit upon himself, his unit, and the United States Army."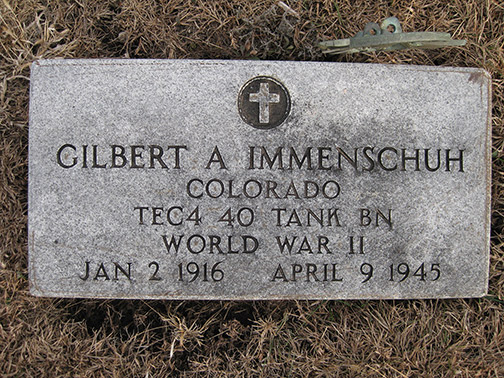 Gilbert Immenschuh's headstone at Westmorland Cemetery, Westmorland, KS.
The information available for this veteran is incomplete. We would like to include as much information about all our veterans as possible, so if you or someone you know has any additional information we encourage you to contact us at: peacememorialmanhattan@gmail.com. Thank you for your support.