Date of Birth: September 17, 1917
Place of Birth: West Plains, Howell Co., Missouri
Father and Mother's Names: Fred Shadwell and Utoka A. (Skelton) Shadwell
Spouse's Name: Mary Ruth Shadwell (maiden name unknown)
Date Entered Service: TBD
Service Branch: Army Air Corps
Rank/Specialty: Second Lieutenant, Bombardier/Navigator, B-25 Mitchell Bomber, SN#41-30407.
Service ID: 0-666716
Division/Company/Unit info: 82nd Bomber Squadron, 12th Bombardment Group.
Riley Connection: NARA (National Archives) list Marion's Home of Record as Riley Co., KS Marion lived at 617 Bluemont Ave. in Manhattan, Ks from 1932-1940. (occupation-meat cutter-grocery store).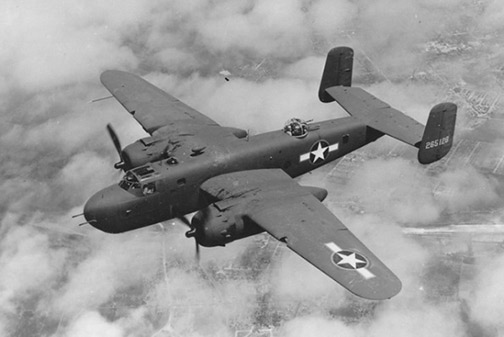 Shadwell was a bombadier and navigator on a Mitchell B-25 Bomber, pictured.
Date of Death (and Age): September 22, 1943 (age 26) - KIA (Killed in Action)
Place of Death: Plane crashed near Volturara, Italy.
Grave Location: Zachary Taylor National Cemetery, Louisville, Kentucky. Re-interred from mass grave (with three of his air crew) at Mt. Soprano, Italy on December 14, 1949.
Bio: On September 17, 1917, Marion R. Shadwell was born in West Plains, Missouri to Fred Shadwell and Utoka A. (Skelton) Shadwell. Marion moved from Missouri to Lawrence, Ks. in 1925 and then to Salina, Ks. by 1930. The famiy then moved to Manhattan, Ks. and were living at 617 Bluemont Ave. by 1932. He attended Manhattan High School for 4 years and graduated by 1935. Marion followed his father into the meat cutting trade and both were working as such in a local grocery store in Manhattan by 1940. Marion joined the Army soon after 1940 and was attached to the 82nd Bomber Squadron, 12th Bombardment Group, USAF as a 2nd Lt on a B-25 Medium Bomber. Marion's job was as Bombardier and Navigator. While on a bombing mission over Italy, Marion's plane recieved a direct hit by Anti-Aircraft fire. His plane crashed with only one crewman surviving. The only man to survive was the Gunner, Edward Minck, who was able to parachute out of the plane before it crashed on land in a corn field. He was shot by German soldiers but lived and was taken as a POW.
Marion married a women by the name of Mary Ruth. Her maiden name is currently unknown. Mary Ruth sent a letter to the government, after hearing of her husband's death, to find out the status of his remains and where he may be buried.
Eye witness account of crash and interview of survivor:
Aircraft: B-25 Mitchell medium bomber 41-30407
Nationality: U.S.A.
Precipitate: September 22, 1943
Location: 26 km north-east of Salerno
Remarks: Identification confirmed
The location of this crash site is due to the tenacity and perseverance by Gianni Coscia. After reading an article that explained the activities of SALERNO AIR FINDERS, contacted us and was kindly provided with regard to research in Irpinia. We provided him a couple of reports of crashing took place outside of his country, Montemarano, and a few days later he contacted us to inform us of his findings.
Through Patrizia Meo he has learned of a man who witnessed a crash in its property. We then promptly arranged a first visit by meeting with Gianni and John Stoppiello of Volturara Irpina, that led us to the home of Michael Meo, a man in his eighties but with a still lucid mind. Mr. Michael, who still lives today in Ceraso, where his family lived 70 years ago , has warmly welcomed at home with her daughter-in-law Rosa and Francesco Marra. It 'was very helpful and informative in telling us what he saw happen on that morning of September 22, 1943.
The land named "Piano del Dragone" was since a few days already full of German troops camped. The area allowed access to Salerno where the Allies had landed on September 9 and allowed the troops of the Wehrmacht to maintain a safe escape route in the event of a retreat. In addition, the Luftwaffe, the German air force, was widely using the airport implanted by fascism in the '30s. All this activity did not go unnoticed to the Allies scouts' planes and September 22th the U.S. Air Force appeared in the skies of Volturara throwing incendiary bombs. The attacks continued in the following days resulting in about 60 deaths among the civilian population.
Referring to its first bombing Michele Meo says: "I saw 2 groups of American bombers each consisting of 3 planes flying very low and throw their bombs on our district. Suddenly the German anti-aircraft placed in an elevated position on the road Serino - Santo Stefano del Sole opened fire. Two planes were shot and one visibly began to lose altitude. After a sharp turn to the left, during which I saw a man bailed out , the plane fell down in our own land disintegrating into a thousand pieces and taking fire immediately. Our house was hit by the flames and we together with my mother and my brothers were forced to flee to escape death. When the flames died down I went to the disaster site and noticed that human limbs were in the midst of those burning wreckage. For several days the poor parts of bodies remained unburied until they were collected and buried in the same spot where the plane crashed. My father, who had escaped to the mountains along with our sheeps not to be raided by the Germans, looked down what had happened and tried to go back to see if we were okay. Unfortunately, a few meters from the house, got into one of the landmines that the Germans had scattered in the area and lost his life. In a few days I lost my home and my father. "
So far, the dramatic story of Michele , but what remains of that tragic event? We asked the current owner of the property, Mr. Antonio Feo, to allow us to do a quick inspection. After obtaining permission we began the search following the precise instructions of Michele and Antonio. It did not take long time to find a few small fragments of aluminum, typical evidence of a plane crash. Unfortunately, the terrain is used for the production of grass for the animals and so we could not continue the search, but Antonio said he will allow us to continue our search in winter.
The fragments of aluminum, however, supply to us some indications. First of all, the discovery of a shell of 12.7 mm Browning machine gun, confirmed that it was a U.S. plane. In addition, the serial numbers present on some fragments begin with the prefix 82. That indicates that the parts are made up for an American medium bomber North American B-25 Mitchell. This nimble and stable plane became famous during the Second World War, when a squadron of B-25s took off from the aircraft carrier Hornet under the command of General Doolittle to bomb Tokyo in response to the Japanese attack on Pearl Harbour.
As reported by Michele Meo, only one of the crew managed to launch before the plane crashed to the ground. Further research allowed us to identify the plane, finding its own MACR 16514, connected to the B-25 shot down in Volturara September 22, 1943. From it we learned that the crew members were:
Harvey L. Harmon, pilot, 22 Years
William F. Ballard, co-pilot, 22 Years
Marion P. Shadwell, navigator, 22 Years
Franklin L. Fent, gunner, 22 Years
Edward J. Minck, radio officer and gunner, 22 Years
The report says that a formation of 24 aircraft of the 82nd Squadron and the 83nd Squadron attacked that day artillery troops of the Wehrmacht near Saint Lucia di Serino. The Squadron was counter-attacked by the fire of 3 anti-aircraft guns that hit 8 bombers, one of which caught fire and crashed. We tried to track down the only survivor named in the report, Edward J. Minck, looking in the phone book of the city of Danbury, his hometown. Finding an address in his name we wrote a letter. After a few days we were contacted by Cathy Lynch, daughter of Edward, who was happy to learn of our research and let us know who the father is still living. We then learned that Edward was enlisted in USAAF at age of 19 and was assigned to the 12th BS. The day he was shot down was on his 30th mission for which he was offered as a volunteer and as a result, he was been assigned to a crew different than the usual one. When the plane was hit, Ed tried to help the pilot to wear a parachute, but he ordered him to launch immediately. He just jumped from the plane and saw it crash to the ground. Edward ended up in a cornfield and was rescued by some farmers who helped him to hide in a chicken coop. After a few minutes he heard Germans voices ordering him to surrender. An officer fired at him and hit him in the groin. He had to go out from the chicken coop with his hands up and was taken prisoner. He was later transported to a military hospital near Rome, where he had a painful surgery after which he was transferred to a prison camp in Germany.
The information available for this veteran is incomplete. We would like to include as much information about all our veterans as possible, so if you or someone you know has any additional information we encourage you to contact us at: peacememorialmanhattan@gmail.com. Thank you for your support.