Dale Johnson
Dale Johnson grew up in El Dorado, Kansas, one of the eight children of Howard and Winifred Johnson. He came to Manhattan as a young man and worked as a mail clerk to put himself through the State College and its ROTC program. Upon graduation in 1940 Dale was commissioned as a Second Lieutenant in the army reserve.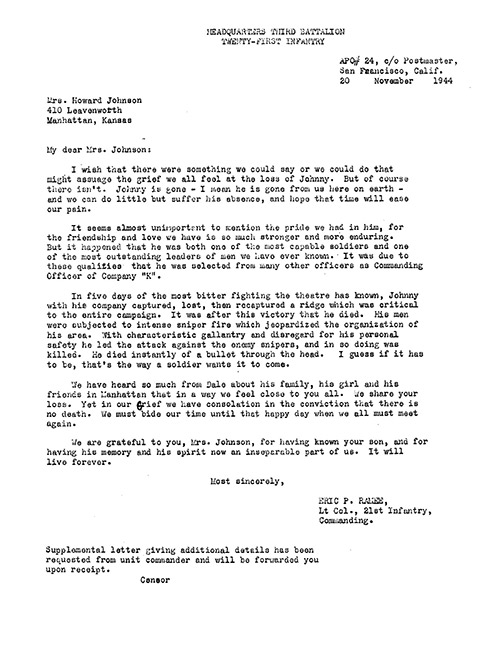 Dale Johnson death reported to his family.
Dale was decorated for gallantry in action on Pinamopoan, Leyte, in the Philippine Islands. On November 11, 1944 he led a group of soldiers defending American tanks from Japanese suicide bombers. During the battle Dale spotted a group of wounded American GIs sheltering on a piece of high ground, pinned down by the enemy gunfire. He immediately led his men, crawling under enemy fire, toward his wounded comrades and carefully pulled them to safety. Later in the battle, Dale took a small party of troops to a ridge overlooking the tanks' advance and covered the flanks of the column as it navigated through waves of Japanese attackers.
Tragically, Dale was killed in action four days later. In a letter to home to Dale's mother, commanding officer Lieutenant Colonel Eric Ramee described the circumstances of Dale's untimely demise. Ramee writes that Dale's men were "subject to intense sniper fire which jeopardized the organization of his area." Yet "with characteristic gallantry and disregard for his personal safety" Lieutenant Johnson led the attack against the enemy snipers. Soon into the action, however, Dale was killed instantly by a sniper's bullet. As Colonel Ramee writes, "I guess if it has to be, that's the way a soldier wants it to come."
Dale Johnson was posthumously awarded the Silver Star for his actions in battle, and is laid to rest in Arlington National Cemetery. Three of his four brothers also served in the war. Older brother Bruce served as a Master Chief in the "Seabees," the Navy's elite underwater demolition teams, and younger brothers Morris and Howard both served in the Army Air Corps. All of Dale's siblings survived the war.