Date of Birth: May 12, 1926
Place of Birth: Manhattan, Kansas
Father and Mother's Names: TBD
Spouse and Children's Names: TBD
Date Entered Service: May 26, 1944 at Kansas City, Missouri.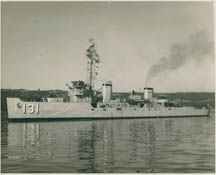 Minesweeper Escort, USS Zeal.
Service Branch: Navy
Rank/Specialty: Storekeeper Third Class
Service ID: 3429841
Division/Company/Unit info: Minesweeper, USS Zeal (AM-131), Escort Vessel, Pacific Fleet.
Riley Connection: Born and raised in Manhattan, Kansas. Graduate of Manhattan High School. Was living in Manhattan before joining the Army.
Date of Discharge: May 10, 1946 in Norman, Oklahoma. Re-enlisted to fight in Korean Conflict.
Date of Death (Age): N/A
Jim Isles (center) with fellow sailors, Honululu, HI. Courtesy Jim Iles.
Bio: Born and raised in Manhattan, Kansas. Jim graduated from Manhattan High School and studied business at K-State for a brief time before enlisting in the Navy. Jim and about a dozen of his friends decided to enlist on the last day of their senior year. They travelled to Kansas City and all but a few joined the Navy. Bob Srack and Colman Eichman were among those to go. Bob Srack was a close friend of Jim's as a kid and well through high school. Jim played football and basketball for MHS. Jim served first on the USS Baham and then on the USS Zeal. He served in the Pacific Theatre and was in Tokyo for the signing of the Japanese Surrender. More info TBD. He stayed in the Navy for a year after the end of the war. He would later re-enlist to fight in the Korean Conflict.
The information available for this veteran is incomplete. We would like to include as much information about all our veterans as possible, so if you or someone you know has any additional information we encourage you to contact us at: peacememorialmanhattan@gmail.com. Thank you for your support.